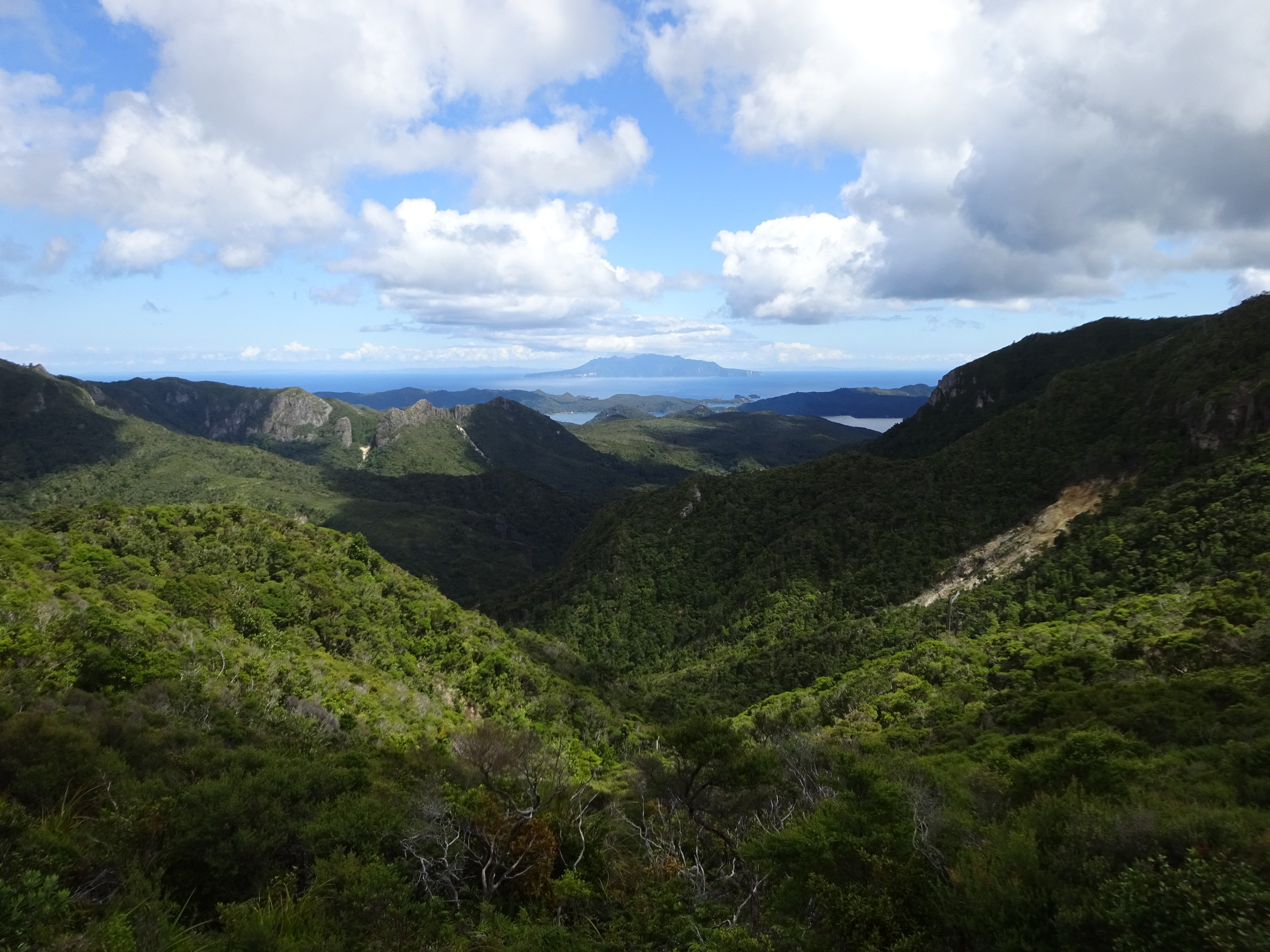 Day 2: Part One:The River Bed and Steep @$$ Hill
I broke from the hut early the next day. The baby boomers who shared the hut with me were slowly rising and creaking and commenting on there investment properties. Following the path on the Aotea is tough, as was proven the first day. The second day furthered this notion by having the path descent into a barren river bed, rocks upon rocks and stones upon stones. The path now was marked merely by a fluorescent pink stake in the ground. Once this path lead back to a more clear trail I was met with what can only be described as a moral-killing hill, followed…by another hill even more obnoxiously steep hill. Gassed and bagged I reached the top and was met with a more pleasant jaunt towards the hut, I came across my first fellow trekker going the other way, we shook hands, made small talk and exchanged vague time frame reckonings, I'm told "Yah mate bout 15 mins away". 1 hour later I reach the second hut, with a spectacular view of Mt Hood, my next task for the afternoon.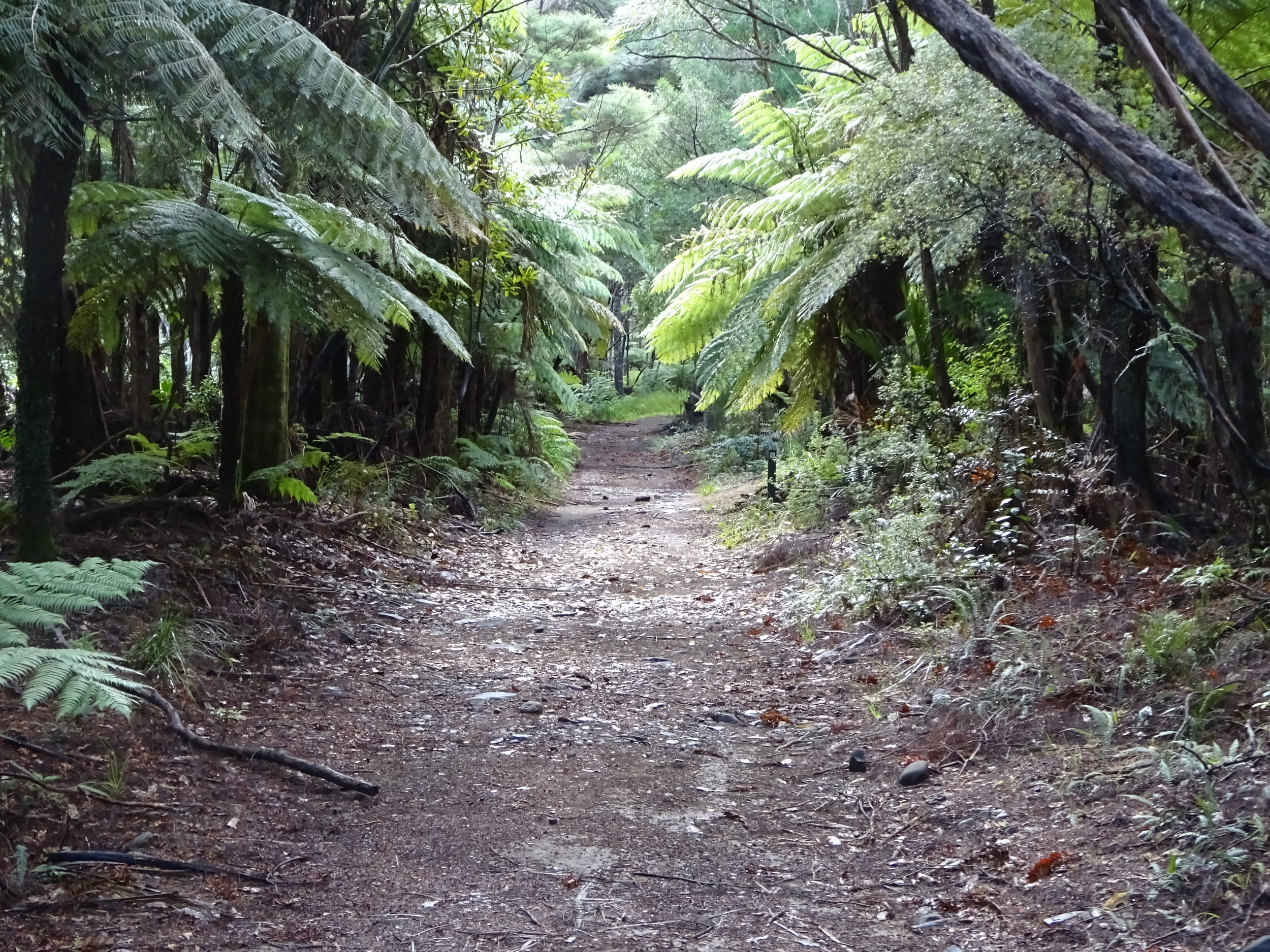 Day 1: Part Three: Pain to Pleasure
Drudging is an accurate word, I drudged through the varying landscape that could only be described as a geologist rocky wet dream. Thinking that this path had no end and wondering why I had chosen this task left me despondent. But as Rudyard Kipling's poem "If" states, "If you can force your heart and nerve and sinew to serve your turn long after they are gone, And so hold on when there is nothing in you except the Will which says to them: 'Hold on!". What met me was a sight so beautiful I could damn near cry at in its vicinity, "Kairaara Hut and Forest Road – 1.4km/30 mins"…yes. Shortly thereafter I was dunking my head in the beautiful natural spring next to the hut, pure ecstasy. My evening of Netflix downloads, canned food and water. The trip had more than I thought to come.
Day 1: Part Two: Entry into the Unknown
Finding the entrance to the Aotea Track is simple enough. Follow the road out of town take right here, a left there and eventually you're met with an inconspicuous ingress. With a deep breath and stomach full of butterflies, I entered the trail.
My initial thoughts were arrogantly simple, thinking to myself "This is it?". Little did I know of the challenge ahead of me. The path became more rugged and less obvious. For a brief and panic inducing moment, I thought I lost the path. Remaining steadfast and keeping a logical frame of mind I followed the route I was on and thankfully, found my way.
Up and down the trail went, it was obnoxiously never ending and this was only my first day. Instead of having despair and being downtrodden I appreciated the little pleasures. The views, solitude and adventure that I was on, that's what kept me going.
Day 1: Part One: Ecstasy and Anxiety
With adventure in my mind and butterflies in my stomach my trip to Great Barrier Island was one of some trepidation. After all, no one I had spoken to had trekked the fabled Aotea Track and for the most part no one I met or knew had visited the sparsely populated island. As the plane landed on the grass tarmac after a smooth and picturesque 30-minute flight from Auckland I began to truly feel nerves and bounds of excitement.
After the plane had taxied to the terminal (Literal tin shack) my bag was handed to me by the baggage handler, who as a matter of fact was also the pilot. I filled what would be my 3-day supply of water in the airport's toilet. Then, made sure all of my provisions were in order, consulted my pre-planned directions and simply started walking, for the first time in my life, I was truly walking into the unknown.
Kamui Ski Links - Open for the Season
Opting to venture further north than our fellow countrymen we arrived in Asahikawa around midday after an overnight train ride from Aomori via Sapporo. Powder was on our minds and the Japanese ski fields was where we could get our fix. There are few great pleasures quite like having a whole run to yourself that's covered in fresh snow. The sound of your ski's cutting through the flurry, echoing off the trees is like no other.
With the streets having a perpetual dampness similar to a soggy kitchen towel after evening wash up, Kyoto's Kinkaku-Ji or "Golden Temple" shone with pride and dignity on the day of our visit. Flanked by school children we manoeuvred our way through the horde in the hope of finding solace and space, we would be disappointed. Albeit briefly, for the building has an aura and commanding nature that catches your attention like an air horn piercing the early morning silence. The charming enclosure allows the mind to wander and makes you think about a time when patience was a virtue and conversation was the norm.
The grounds surrounding the temple had a fresh effervescence, with the dewy sweet air so plentiful and enriching you felt as though you were on a literal cloud as you glided around the shrubbery. Once we moved on from the rockeries we ventured into the old town, joined by our unofficial guide and old family friend of mine Toshi Kanata or as he was known to us, Toshi-San. A whirlwind tour of rapid-fire facts and charm ensued as Toshi-San introduced us to various members of Kyoto society all culminating with a beer and some gyoza at the oldest bar in Kyoto. The authenticity of our day in Kyoto is what made it memorable, we felt as though we witnessed the true Japan and experienced true Japanese Culture and if that wasn't enough the evening spent in our Ryokan's Onsen sipping Sake by the bottle cemented the genuineness.
Osaka Castle is one of the must-see places whenever visiting the city of Osaka. Containing historical artefacts spanning many centuries, the structure is an imposing sight to behold. Once you wander past the stalls selling the street food favourite Takoyaki (Fried Octopus Balls) the impressive architectural fortress speaks volumes towards Japanese ingenuity. The buzz of fellow travellers and the cawing of crows accompany a visit which is truly memorable.